Restaurants and home cooks can use the Rustics Collection Naan breads to create exciting new fusion cuisine; the Naan comes two to a pack in a zipper-style closure re-sealable bag.
Paterson, N.J. – Nov. 3, 2015 – Kontos Foods, Inc. (www.kontos.com), a U.S.-based manufacturer and distributor of traditional Greek and Mediterranean foods, announced the launch of Kontos Rustics Collection™, Tandoori-style Naan bread in original and garlic flavors.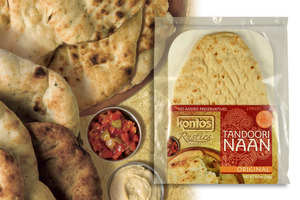 "Kontos Rustics Collection Tandoori Naan breads are light and fluffy, providing a great accompaniment to virtually any meal," said Steve Kontos, Vice President of Kontos Foods. "Restaurants and home cooks can use the Rustics Collection to create new and exciting fusion cuisine offerings. They offer all the goodness and functionality of breads and wraps, with great taste and authentic Tandoori taste and texture."
The new oblong-shaped Naan bread, targeted at retail outlets, restaurants and food service establishments, contains no added preservatives. The Naan come two to a pack in a re-sealable bag with a zipper-style closure, in packaging that allows retailers to stack them on a shelf or hang them from a peg.
Within the coming months, Kontos Foods will be introducing two additional Rustics Collection flavors: Whole Wheat and Onion. The Rustics Collection extends Kontos' current line of over 50 ethnic-style breads, including Massala Nan, Kulcha Nan, Roghani Nan, Missy Roti, and Pan Planos.
Naan bread, one of the world's first flatbreads, originated around 2600 BC in Tandoor ovens in India. Naan became a staple of ancient India, evoking delicious flavor, versatility and portability – the world's first flatbread. The word "naan" is derived from the Persian word "non" which refers to "bread."
Thanks for reading Hellenic News of America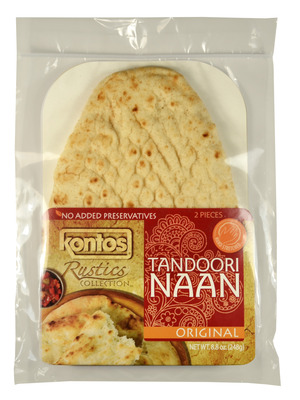 Kontos Rustics Collection Naan breads can be used for sandwiches, personal pizzas, toasted, or eaten right out of the package to accompany dips such as Hummus, Baba Ghanoush, Tzatziki sauce, salsas, onion, or vegetable dip. The breads are ideal paired with soups or stews, or as a base for Mexican dishes such as huevos rancheros. Served with a dipping dish of extra virgin olive oil, the Rustics Collection also works well in a breadbasket. The Naan can even be used as satisfying breakfast bread, providing fiber in every serving.
"U.S. retail outlets are embracing the Kontos Rustics Collection because of their authentic flavor, texture, shape and versatility. We're also receiving a very positive response from our retailers in Canada and the Caribbean, showing that this bread has widespread appeal," said Warren Stoll, Marketing Director of Kontos Foods. "This Naan bread is re-invigorating the Indian and South Asian bread category."
Kontos sells its products to retailers and foodservice establishments across North America and globally. Find Kontos Foods on Facebook at https://www.facebook.com/Kontosfoods and follow the company on Twitter @KontosFoods.
About Kontos Foods
Founded in 1987, Kontos Foods, Inc. is a Paterson, New Jersey-based provider of traditional Mediterranean foods for restaurants, hotels, food service, retail specialty stores and supermarkets worldwide. The family-owned company specializes in hand-stretched Flatbreads, including the Kontos Pocket-Less Pita®, Fillo dough, pastries, olives, gyro meats, and Greek yogurts, as well as over 50 varieties of multi-ethnic Flatbreads. Kontos, which has over 225 employees and was founded by Evripides (Evris) Kontos with his son Steven, together bring over 100 years' experience in the premium food industry. The company's bread and Fillo products are made in the USA. Visit www.kontos.com or call (973) 278-2800.